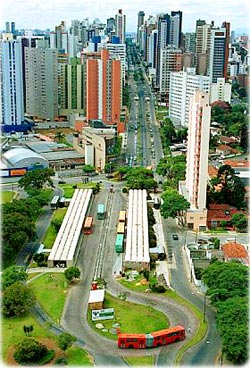 Residents of Curitiba, Brazil, think they live in the best city in the world, and a lot of outsiders agree. Curibita has 17 new parks, 90 miles of bike paths, trees everywhere, and traffic and garbage systems that officials from other cities come to study. Curibita's mayor for twelve years, Jaime Lerner, has a 92 per cent approval rating. read the whole story here





The Global Ideas Bank is a digest of innovative and creative ideas for the betterment of cities, ecology, social empowerment, etc. as they describe it themselves:

- The Global Ideas Bank aims to promote and disseminate good creative ideas to improve society. It further aims to encourage the public to generate these ideas, to participate in the problem-solving process.
- These ideas we term social inventions: non-technological, non-product, non-gadget ideas for social change. These are a mix of existing projects, fledgling initiatives and new bright ideas.
- In this way, the Global Ideas Bank is part-suggestions box, part-ideas network and part-democratic think-tank, giving the "ordinary" person a chance to have their creativity recognised, rewarded and even put into practice.

- The Global Ideas Bank further aims to provide information and a community to help those individuals who wish to make their idea or project a reality in their own community. See the Practical Help and Success Stories sections for more on this.
via urbanistika