Christmas revamp 'oblige', fashion designers are working their magic on champagne bottles, caviar is next.
Pucci/Cliquot (some years back)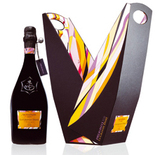 Dom Perignon/Karl Lagerfeld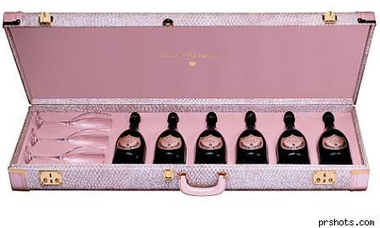 And this year Viktor and Rolf/Piper

via
Wallpaper
Nobody could accuse impresarios of the fashion world Viktor & Rolf of being conservative when it comes to imaginative concepts. In the past when unlikely companies have enlisted the help of fashion designers to inject a product with a bit of creativity, the results have often been lacklustre: pretty prints have graced everything from laptop surfaces to washing machines but rarely have collaborations been anything more than surface.
But when the historic French champagne house Piper Heidsieck approached the Dutch duo to design a limited edition Rose Sauvage set, Viktor & Rolf approached the project with the same care, imagination and attention to detail as they would one of their collections.
'How could we make something new out of something eternal? We only had one answer: invert the proportions by making an enormous cork and a narrower base,' they explain.
Aware of the potential accusations that they were playing with the concept pointlessly, they said in their defence, 'There's always a danger in taking on this sort of project: a risk of creating a gimmick. The only way to avoid this pitfall is to be very thorough in the execution.'
And thorough in this case means mastering the technical difficulties of making sure each component of the collection follows the same principles: so an inverted champagne glass becomes more of a Martini glass and an inverted cooler appears more like an antique casket.
For Viktor & Rolf's efforts to stamp a very traditional brand with their trademark wit, we applaud them.