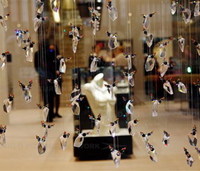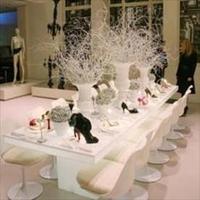 C'est sur Great Marlborough Street, en face du célèbre magasin Liberty (et à deux pas de Carnaby St) que l'autrichien Swarovski a planté son écrin de 420 mètres carrés depuis janvier dernier.
Le "Crystallized Cosmos and Lounge" (design Virgile & Stone London) a été lancé simultanément à un flagship store de 111 m² sur Regent Street conçu par le designer japonais Tokujin Yashioka. Mondialement connue pour ses luxueuses sculptures en cristal, la marque est réputée pour la qualité et la beauté de ses créations de bijoux (Trois lignes: l'atelier couture/ la ligne fashion/ la ligne diffusion).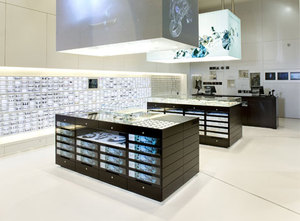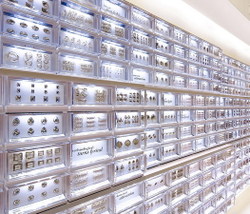 Le Crystallized Cosmos and Lounge se positionne selon un concept retail totalement innovant, interactif et créatif. Le "Cosmos" situé au rez de chaussée acceuille le visiteur dans une forêt de cristal scintillante appelée "crystal forest". Il se définit comme étant un espace "créatif et énergisant". L'originalité du concept se trouve ici, dans cette multitude de petits tiroirs d'apothicaire où les clientes vont pouvoir créer - ou même customiser - avec l'aide de stylistes-designers leurs propres bijoux (ou toute autre création originale) parmi les milliers de cristaux, pierres semi-précieuses et autres composants en bois ou métal de toutes tailles et toutes couleurs disponibles...et ce, selon l'inspiration ou la garde robe du moment...
Pour celles qui hésiteraient encore, des ordinateurs sont à disposition pour explorer et identifier leur propre style. De même, des "kits prêts à l'emploi' servent de point de départ et ont été déclinés selon 5 thèmes: glamour, moderne, romantique, naturel et classique.
Dédié à la créativité et à l'expression personnelle cet espace interactif innovant s'adresse à une clientèle plus jeune que celle du flagship de Regent Street. Un seul credo: "imagination knows no limits".
Au premier étage se trouve l'espace Lounge, conçu pour être "rafraîchissant et relaxant". Installés dans des banquettes en cuir, les clients peuvent commander sur le thème du "mix and match" tout en regardant défiler les différentes collections sur un écran plasma géant.
En outre, le Crystallized Lounge sert d'espace aux ateliers et accueille les événements spéciaux (en mai c'est le thème du mariage) , les expositions (Swarovski présente les plus belles oeuvres en cristal d'artistes designers du monde entier) ou les défilés de mode.
Tout cet univers scintillant fonctionne à merveille.