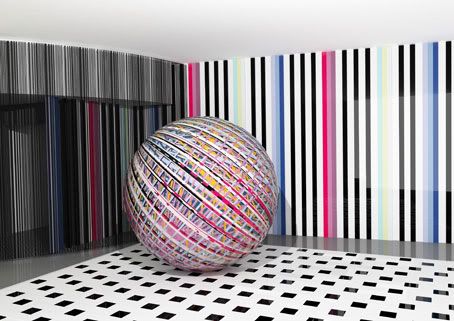 Milan, April 15-21, 2008

"Corian® loves Missoni"
Iconic design material meets world-class master in colour and style
What happens when you combine a world-class master in colour and style with a global star among design and architecture materials ? The result is one of the most inspiring events of the 2008 design extravaganza in Milan: "Corian® lovesMissoni".
"Corian® loves Missoni" is an exhibition that creates a visionary residential interior with kitchen, bath, living and dining areas expressing the design versatility of DuPont Corian® solid surfaces through the style of Missoni. These interior environments will be at once rational and essential, yet rich in colour, taste and imagination, reflecting the extraordinary creativity and the skills in colour research and combination that have made the Missoni style so unique and distinctive since the 60's.

(Rosita Missoni)
"Corian® loves Missoni" will see Rosita Missoni and Luca Missoni, her son, applying their bold and elegant pattern and chromatic philosophy to both the overall interior environment and the individual furnishing elements, exploiting the extensive options offered
by the broad colour palette of DuPont Corian® and by different techniques for its decoration and surface treatment.
The combination of the beauty, warmth and elegance of fabrics, furniture and accessories of Missoni Home collections with the design flexibility and sensuality of DuPont Corian® will be a further key ingredient in the distinctive flavour of the "Corian® loves Missoni" interior environment. Rosita Missoni and Luca Missoni are also going to offer an interpretation of five new translucent colours of DuPont Corian® that DuPont is introducing in 2008.
Furthermore, the project will demonstrate the integration of DuPont Corian® with innovative lighting solutions and acoustic devices and other technological systems.
"Corian® loves Missoni" will also benefit from the technical collaboration of Boffi, Margaritelli/Listone Giordano®, Artemide and other qualified companies.
Project manager of "Corian® loves Missoni" exhibition is architect Massimo Fucci, consultant of DuPont Surfaces business, organizing design events about DuPont Corian® with leading architects and designers in Europe.
The MissoniHome brand
The home collection designed by Rosita Missoni stands out for its sunny personality and creative spirit, in which a sense of color interweaves with manufacturing excellence. Today the MissoniHome brand denotes a vast selection of multiform, multicolored elements. This rich mosaic of fabrics and furnishings is an expression of a mood that's modern and contemporary, the product of collaboration between two leading companies: Missoni (fashion) and T&J Vestor (home textiles and furnishings since 1921). Creativity and design coordination are the job of Rosita Missoni, who transfers and translates into the concrete reality of the home inspirations and emotions drawn from the world of fashion.
About DuPont Corian®
An exclusive product of DuPont, DuPont Corian® is used in a wide range of applications in segments as varied as hospitality, healthcare, catering, publics spaces and retail, as well as in home furnishing, furniture, lighting and decorative objects. It is a non-porous solid surface material that is stain-resistant, easy to clean, durable, renewable and repairable. Available in about 100 standard colours, DuPont Corian® solid surfaces can be shaped into virtually any conceivable design.
About DuPont
DuPont is a science company. Founded in 1802, DuPont puts science to work by solving problems and creating solutions that make people's lives better, safer and easier. Operating in more than 70 countries, the company offers a wide range of products and services to markets including agriculture, nutrition, electronics, communications, safety and protection, home and construction, transportation and apparel.
Thanks to Ashlee Moratorio from luxuryculture.com and Claudio Greco Public Relations and Media Relations Manager of DuPont Building Innovations (Europe, Middle East and Africa)
via designistoshare